Learn what's safe and what's not.    Click here. 
Switching to Shaklee's GET CLEAN products will make a difference for you, your family and the planet.  It's personal.  It's simple – remove chemicals from your cleaning supplies.
Two of our favorites GET CLEAN products are:
Basic H2 Organic Super Cleaning Concentrate
(item #00015 – also included in our GET CLEAN Starter Kit)
Ready-to-use products are more expensive and create a ton a plastic waste.  Because you add your own water, one 16-oz bottle BASIC can make

Window Cleaner
768 Gallons (that's 3,780 bottles of Windex®)

All-Purpose Cleaner
48 Gallons  (that's 100's of bottles of 409 or Fantastic)
Can be mixed as a degreaser, too!

Green Seal Certified
Official Earth Day Product
Scour-Off Paste (item # 00430)

Natural ingredients remove the toughest stuck-on messes without harsh chemicals
Great for tough cleaning jobs, inside and out
Sinks, tile, grout, ovens, ovenproof glass, stove tops, ceramic tiles, porcelain sinks and baked enamel
Click here to see our wide range of GET CLEAN kits that can help you get started!  Or contact us and we'll be happy to help you.
Special offer now through April 30, 2012: JOIN FREE ($19.95 value) and save 15% on all Shaklee products.
CELEBRATE EARTH DAY, JOIN SHAKLEE and SAVE!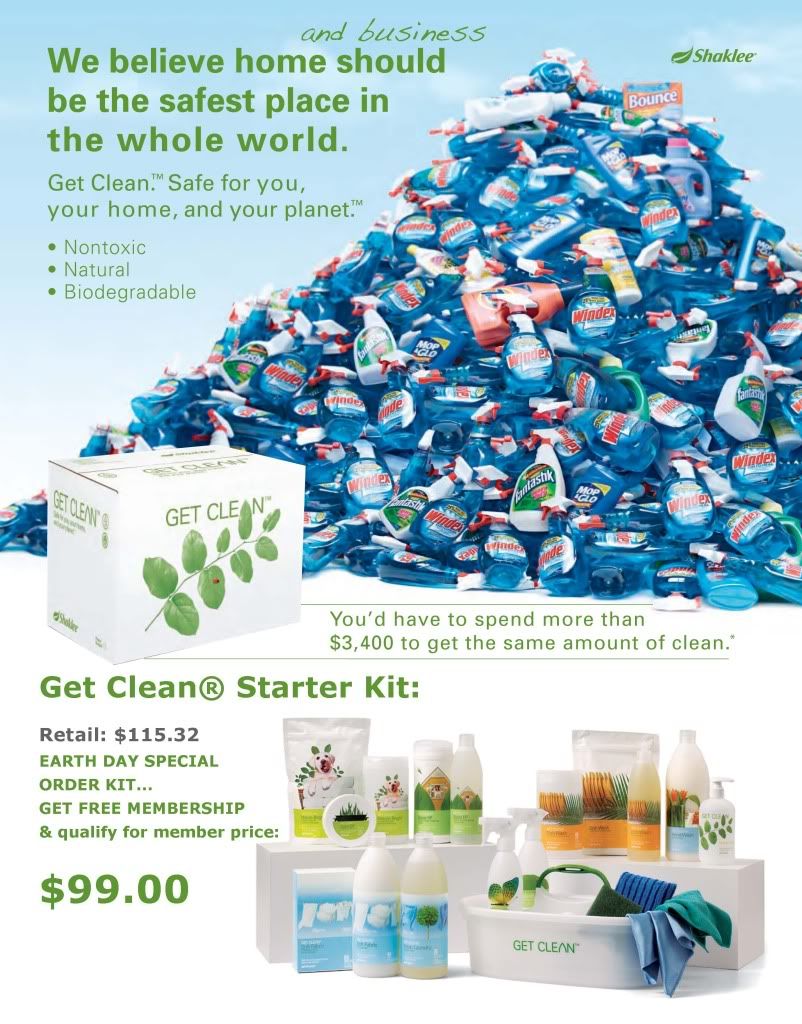 Get Clean Starter Kit – a great way to start!